Party Bus Info and FAQs
---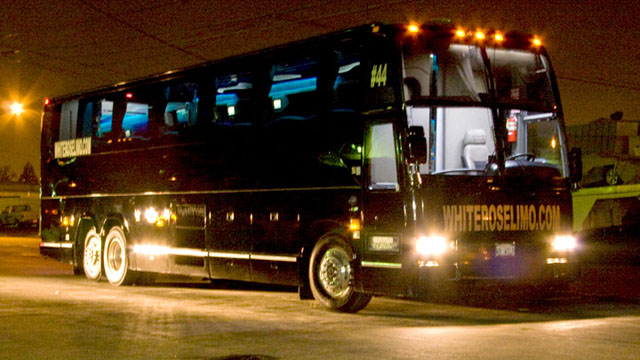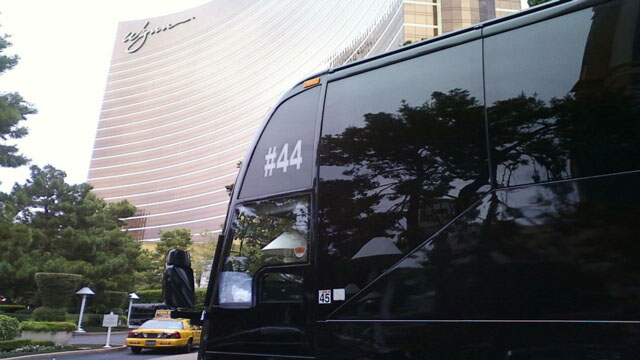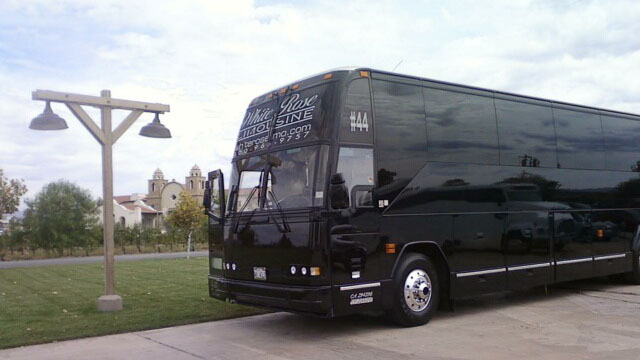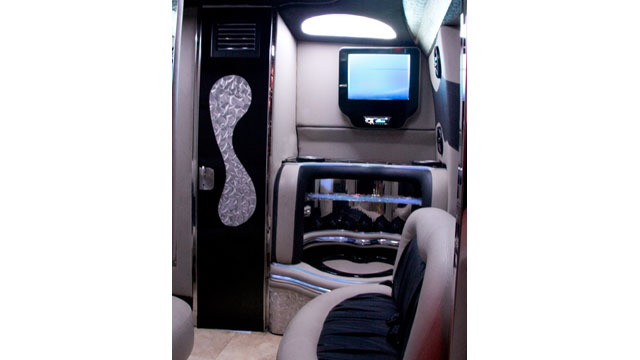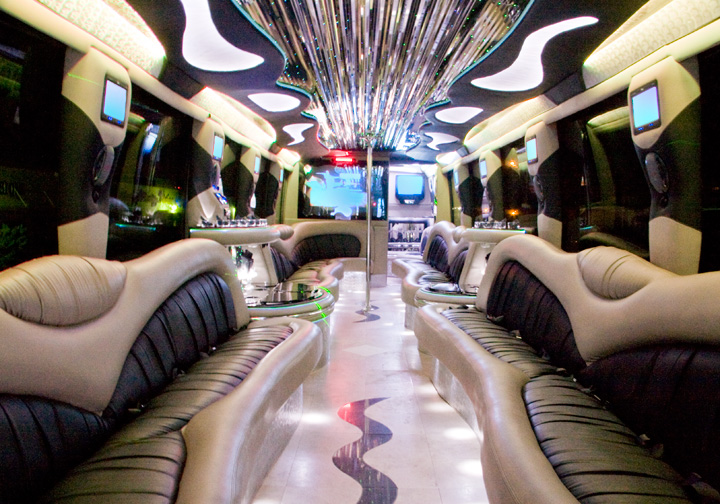 Party Bus Features:
Sprinter Bus Fits up to 16 Passengers
Mini Party Bus Fits up to 30 Passengers
Luxury Party Bus #40 Fits up to 44 Passengers
Luxury Party Bus #44 Fits up to 44 Passengers
Black Exterior w/ Tan & Black Leather Interior
Surround Sound Stereo
4 Color Disco Lighting (Changes w Music)
Marble Floors w/ Under-Seat Lighting
Fiber Optic Lighting 4-color
Private VIP Back Room
Multiple LCD TVs
Big Screen TV
Strobe Lighting
Stripper Poles
Lazer Lights
Custom Rims
Bathroom
Fog
Complimentary Bar:
Vodka
Bourbon
Champagne
Orange Juice
Bottled Water
Brand Name Sodas
I booked your Party Bus for my sister's Birthday. I can't even tell you how impressed she was when it arrived. There were 30 of us total and we had a great night thanks to this fab bus and the driver, Ed.
I just used your company last Saturday for my daughters Homecoming. I booked the Limo Bus, all the parents were very impressed with it when it arrived. I would like to thank your company for all the professional people I worked with at your office. I was stressed that another company would show up and there would be no bus and I would have to deal with 40 teenagers and 40 parents upset with me!

Everything worked out great. The bus was a hit and was very clean when it arrived! We will definitely book your company again for Prom. And will soon book the limo for our Christmas Dinner Party in December. – Martha Alaniz
In Los Angeles, there are many different reasons and occasions to use a Party Bus Rental. Granted, sometimes its for partying and sometimes its just for transporting large groups. There is always something to do, something to see, and somewhere to be in this fabulous city.
Q: What are the benefits of renting a Party Bus?
FUN – Renting a party bus in Los Angeles makes it possible for you, your family and friends to relax to and from your event. You don't have to wrestle with confusing directions, GPS systems, overcrowded parking lots, and losing other drivers in the caravan. When you all get to ride in the same vehicle—even if there are 44 of you—it makes the entire outing more pleasant and fun.
DESIGNATED DRIVER – With a large group there's always the question of who will take on the responsibility of driving. The driver is in charge of getting everyone in their car and to the destination safely. They end up paying for gas, tolls, and they may even have to skip the bar. But when you choose to use a party bus rental, Los Angeles is literally at your fingertips and WE are your designated driver.
HASSLE FREE – Renting a party bus makes everything easier and headache-free when you need to transport a large group to or around Los Angeles. You can have a great time with everyone in the group while en route to your destination and then get dropped off and picked up at your front door. It's fun, it's easy, and it gets everyone from point A to point B in style.
Q: How many passengers do your party buses fit?
Luxury Party Bus – Fts up to 44 passengers
Mini Party Bus – Fits up to 30 passengers
Sprinter Party Bus – Fits up to 16 passengers
Q: Can Businesses use these Buses?
Absolutely! If your needs are a little more serious, the Party Bus can be all business. It's no stranger to the airport where large group pick-ups are a regular thing. They are also great for a variety of corporate functions like holiday celebrations and company parties.
Corporate party bus rentals are designed to suit your individual needs and enhance the overall experience of your event or function. They make things easier on you and your group, which is sure to make the event a success.