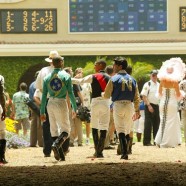 Apr

30
Tags
Related Posts
Visit the Historic Del Mar Racetrack
T he countdown to the first race of the season has begun!  The Del Mar Racetrack will once again open its gates to fans of equestrian sport on July 18th—the 75th annual racing season is about to begin!  Why not make the opening race of this exciting new season something special?  White Rose Limos offers limos to Del Mar for exceptionally affordable elegance—it's the perfect way to start this season with a special day for you and yours.
It's more than just horses and betting!
The pageantry, excitement, the hats, and the winnings await as this fun and inexpensive outdoor venue beckons.  It doesn't matter if you're a long-time race fan or if you've never seen a horse before, the Del Mar racetrack offers a unique experience that everyone will find appealing.  It's just a fun getaway from the everyday.
The track was originally owned by Bing Crosby (Der Bingle himself) and has remained a vibrant and expanding racetrack even as the sport of equestrian racing has declined around the country.  In fact, attendance has increased every year in the recent past and Del Mar racetrack is more famous than ever.
While most folks come for the horses, you might even spot some celebrities including the eye-catching actress/jockey Chantal Sutherland (voted on of People's 100 Most Beautiful), Movie legend Kevin Costner, funny man Johnny Knoxville, heartthrob Luke Wilson, or even Uma Thurman. They've all been known to frequent the racetrack in the past and opening day is the best time to do a little daytime stargazing.
And guys, if you're not into the stargazing, you sure could earn some brownie points with your significant other by booking a limo to Del Mar from White Rose Limo.  You can arrive in air-conditioned comfort with a glass of complimentary champagne in your hand and your date on your arm like a celebrity yourself.  The elegant atmosphere of the racetrack itself recalls the golden age of Hollywood but the festive atmosphere tempers the "sophistication", so it's far from stuffy.
Don't forget the kids!  Del Mar has done its best to make the racetrack a family oriented venue as well.  All throughout the 2012 racing season you'll find events scheduled especially for children—such as the popular "Pizza 'N' Ponies" days or the "Daybreak at Del Mar" events.
Even if you're not planning on attending the opening day of races at Del Mar, it's worth it to get their calendar of events to plan a special outing sometime later in the season.
From all of us at White Rose Limo, good luck and we'll see you at the races.