Apr

12
Tags
Related Posts
Fun and Adventure in Anaheim Made Simple with a Party Bus Rental
H ey, Natalie here. Last time I wrote about my trip to Temecula Wineries; this time I'm planning something that should be even more fun. We're going bowling in Anaheim! I'm renting a party bus and inviting my dinner club group. We're a group of couples and singles; there are about 20 of us so we can get the smaller party bus (it seats up to 30) rental for a good price. I trust these guys at White Rose Limo to make sure the day goes off without a hitch.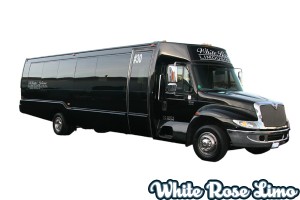 I think we'll plan to spend the whole day at the Anaheim GardenWalk; a day of shopping, movies or whatever… but the prime attraction will be our evening of bowling at this fab new place called 300 Anaheim. With over 40 lanes and private party options it looks like a fabulous idea. We could even get dinner there, but I think we'll probably choose a restaurant from one of the many located nearby. With so many types of shops, movie theaters and restaurants we could split off into small groups or send the guys to one movie while the girls go to a chick flick. Lots of options.
My friends live all over Orange County and could drive, but it'll be easier and more convenient to meet at one central spot and let the party bus deal with the hassles of driving, parking, etc… Then we can concentrate on just relaxing and having fun. I've already checked and it's ok for us to bring coffee for the morning drive and use their free bar for a nightcap at the end of the evening as they take us back home. It couldn't be simpler. I've got my music for the sound system. And I've told everyone that the plush seats, private bathroom and comfort of being a passenger in our very own party bus is all part of the day's fun.