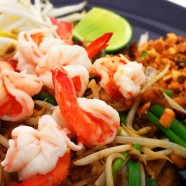 Mar

20
Tags
Related Posts
Best Ethnic Food in the OC
The Best Ethnic Food In Orange County – According to Us
Thai Nokorn Arguably offering some of the best Thai food you'll find, the Thai Nokorn at 11951 Beach Blvd in Garden Grove is what one reviewer called 'the closest thing to Bangkok in Orange County.' Excellent, fresh Thai food prepared to order is on the menu and the staff is extremely fast, friendly, and knowledgeable. One thing you'll notice is that the food is reasonably priced. Another is that the locals and ethnic Thai's alike frequent the restaurant as well – so you know it must be good.
Habana The best Cuban food around is served in a bright and lively atmosphere that perfectly exemplifies this island nation at 2930 Bristol St. in Costa Mesa. While the food is on the up side of reasonably priced, the experience is worth a little extra. Authentic favorites from Cuba and all across South America delight the taste buds at every opportunity.
Las Barcas This reasonably priced family-friendly restaurant has some of the best authentic Mexican food in a market saturated with sub-par competitors. Fresh ingredients combined into tacos, burritos, taquitos and more keep people coming back to 21032 Beach Blvd in Huntington Beach.